Security Monitoring Transmission Solution
Introduction
Public security video surveillance is essential to maintain national security and social stability and prevent and combat violent terrorist crimes under the new situation. An innovative social governance system is significant in improving the management level. In recent years, the vigorous promotion of video surveillance system construction in the fight against crime, security prevention, social management, service people's livelihood, and other aspects played a positive role.
To implement the Party Central Committee, the State Council on strengthening social security prevention and control work requirements, to promote the construction of safe China, enhance public security video surveillance. 2015 May, the National Development and Reform Commission, the Central Office of comprehensive governance, the Ministry of Public Security, and other nine ministries and commissions jointly issued the "on strengthening public security video surveillance construction of several views." By 2020, to achieve "full coverage, full network sharing, full time available, the whole process can be controlled" of public security video surveillance applications, in strengthening security prevention and control, optimizing traffic and travel, urban service management, innovative social governance, and other aspects to achieve significant results.
All-area coverage. Key public areas of video surveillance coverage reached 100%. New construction and reconstruction of high-definition camera ratio of 100%. Key industries and regions of essential parts of the video surveillance coverage rate of 100%. Gradually increase the number of high-definition cameras.
Full network sharing. The networking rate of video surveillance in critical public areas reaches 100%. The networking rate of video image resources in essential industries and the general regions reaches 100%.
Full-time availability. Key public areas installed video surveillance cameras intact rate of 98%. Key industries established a monitoring camera integrity rate of 95%. Realize the application of video image information around the clock.
Fully controllable. Public security video surveillance system of layered security system is in place. To achieve important video image information is not out of control; sensitive video image information is not compromised.
 The Pain Points Analysis of Security Monitoring Transmission.
High Bandwidth Requirements for Industrial PoE Switches.
A video surveillance network is a large and complex network. To guarantee the forwarding efficiency of the whole network, the program in the design stage should consider the bottleneck-free design of the entire network. At the same time, the access side equipment requires high-performance, high-bandwidth characteristics. The core equipment of the whole network is needed to provide bottleneck-free data exchange.
Expandability Requirements for Industrial PoE Switches.
Considering the number of users and the development of business types, the core equipment and convergence equipment are required to have a vital expansion function. Video surveillance network to be built into a complete and unified, flexible networking, easy to expand the elastic network platform. Able to change with the demand, leaving sufficient room for expansion.
Openness Requirements for Industrial PoE switches.
Communication devices are compatible with each other. Technology selection must conform to relevant international and domestic standards, avoiding individual manufacturers' private or internal protocols. Ensure the openness and interconnectivity of the network to meet the need for accurate, secure, reliable, and excellent exchange and transmission of information. Open interface to support good maintenance, measurement and management mean. Provide the information processing function of unified real-time network monitoring and realize the unified management of network equipment.
Security and Reliability of Industrial PoE Switches
The stability of the entire network should be fully considered, support the backup of network nodes and line protection, and provide network security precautions.
Introduction of Security Monitoring Transmission System
The network-based video surveillance system generally consists of three parts.
As shown in the figure below.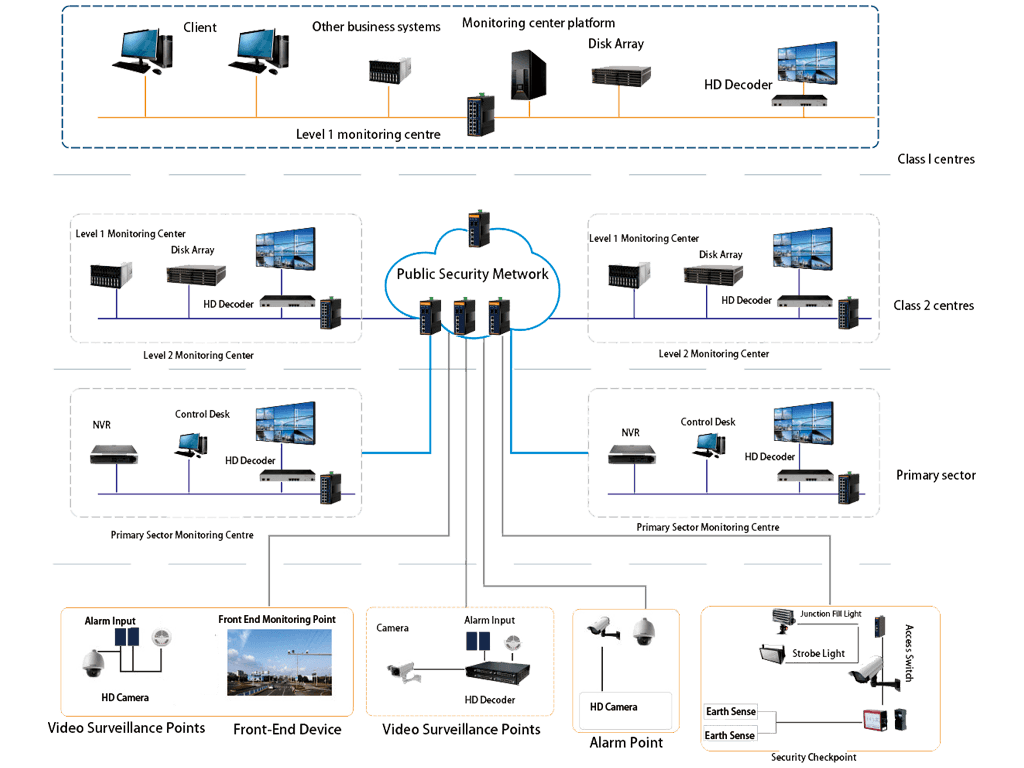 The front-end access part is the data acquisition system, including high-definition video surveillance (flood control monitoring, scenic spot monitoring, forest monitoring, urban and rural communities, and other monitoring data), bayonet monitoring, and other services. The role of the access network is to transmit back the front-end data, according to the different scenarios, industrial switch access, industrial transceiver access, and industrial xPON access.
Intermediate convergence is the data transmission network. It mainly transmits video data to local or remote monitoring and application centers. The transmission network is usually the public security network.
The storage & application system completes video data storage, forwarding video streams, and some intelligent business applications (such as realizing alarm linkage).
Industrial Ethernet Switch of HoweVision Technology
Provide high reliability, high security, and high-quality video surveillance service solutions while making the system easy to deploy, expand, and other features.
Advantages Analysis of Industrial POE Switch in the Access Layer
LAN access network is easy to maintain and suitable for high-density video surveillance access scenarios such as parks, commercial buildings, and venues.
The switching network supports tree, star, and ring-type flexible networking to meet the needs of deployment scenarios.
High and low-temperature resistance, moisture resistance, lightning protection, and other characteristics; can meet the requirements of different areas.
Complete software features to ensure stable network operation, such as loop detection, storm suppression, etc.
Convergence Layer Industrial POE Switch Advantage Analysis
rich QoS features to provide a high quality of monitoring services.
Perfect software function features can ensure stable network operation, such as loop detection, storm suppression, etc.
Power supply and all Ethernet electrical ports to provide lightning protection to protect the user's hardware investment.
Analysis of the Advantages of Core Layer Industrial Ethernet Switches
With the standard G.8032 ring protocol, the reversal is less than 50ms, which can meet the telecom grade standard; it supports the ring networking mode of a single ring, tangent ring, and intersecting ring
Large capacity and high density; the uplink port supports 1G/10G networking, making it convenient for users to expand capacity.
With dual power protection, with the redundant backup of system files and double configuration files to ensure stable operation of the equipment.
Security Monitoring Transmission Ring/Chain Network Application
Application requirements: the length of the river is about 6000 meters. Set up a monitoring point every 100 meters, select the appropriate communication equipment, and establish a communication system to achieve the transmission of video services. The network decomposition for the application requirements is as follows.
The monitoring points along the river do not have constant temperature and humidity room conditions, so the network uses industrial-grade Ethernet switches with good industrial characteristics from HoweVision Technology.
Monitoring points are set up every 100 meters. If one industrial POE switch is placed at each monitoring point, about 60 industrial POE switches are needed. We suggest putting one industrial POE switch between two sites to save investment. Through twisted-pair cable (network cable) to access the adjacent monitoring point's video services, only 30 industrial POE switches can be placed to meet the service needs.
Industrial POE switch networking can be a chain or ring network. We recommend building a ring network to enhance network reliability (a single point of failure does not affect the service).
The Diagram of Industrial POE Switch Ring Network Configuration.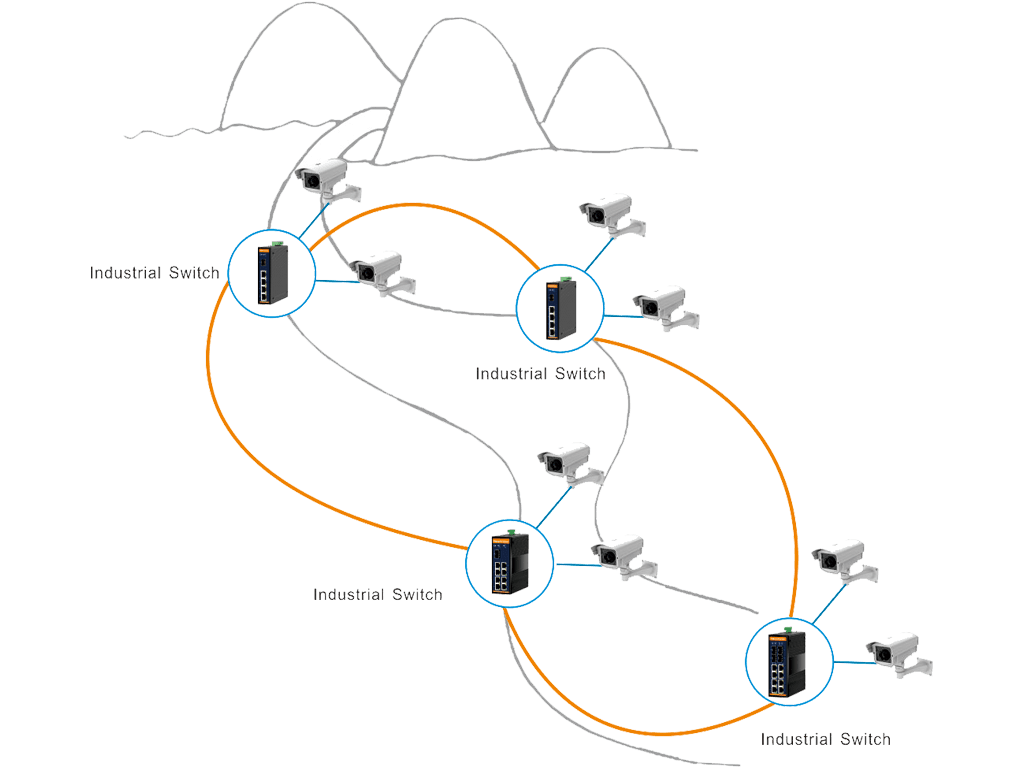 The Diagram of Industrial POE Switch Chain Network Configuration.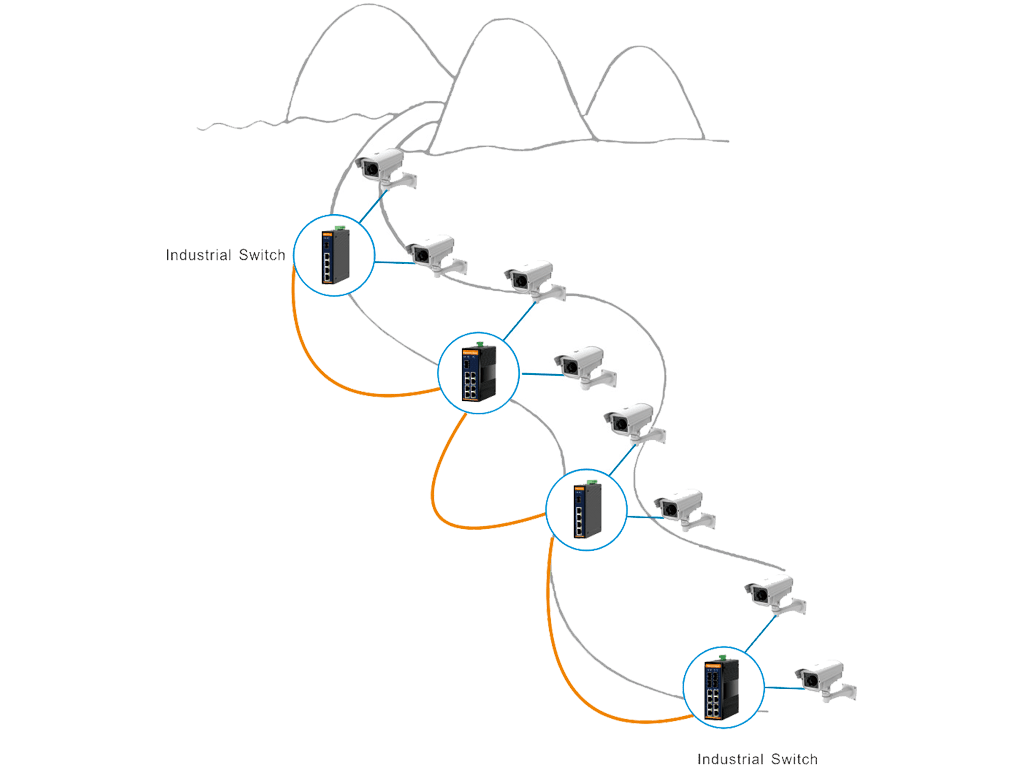 Application Examples of Star Type in Security Monitoring Transmission
Using Industrial POE Switches or Industrial Transceivers to Build a Video Surveillance Network
① industrial-grade products networking method has the following characteristics.
Flexible networking, industrial PoE switching networks support tree, star, and ring networking
Wide temperature, working temperature -40~85 degrees
High EMC characteristics, meet the industrial level 3 or 4, strong anti-interference ability
High protection level, moisture-proof, lightning-proof, and other features, suitable for outdoor use
rich QOS function, which can ensure a high-quality monitoring service
Unified network management is convenient for customers to operate and maintain later
② program combination

Adopt Transceiver + Industrial Transceiver or Industrial Switch Solution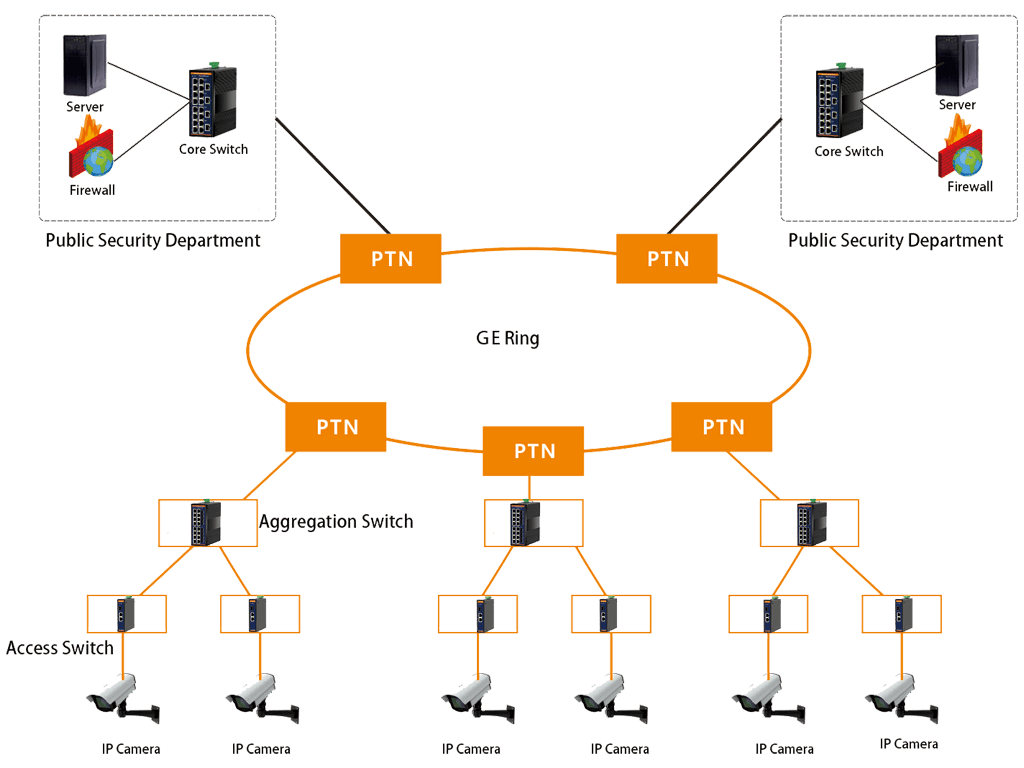 ①、Program description: The access side adopts an industrial transceiver or industrial switch, and the convergence side adopts a 2U series transceiver frame
②、Program characteristics.
Simple networking
Through the expansion of the transceiver card, you can directly manage the industrial transceiver or industrial switch.
Flexible interface form, support 2, 4, 8 electrical ports downstream access
Recommendations for Crucial Products of Security Monitoring and Transmission Systems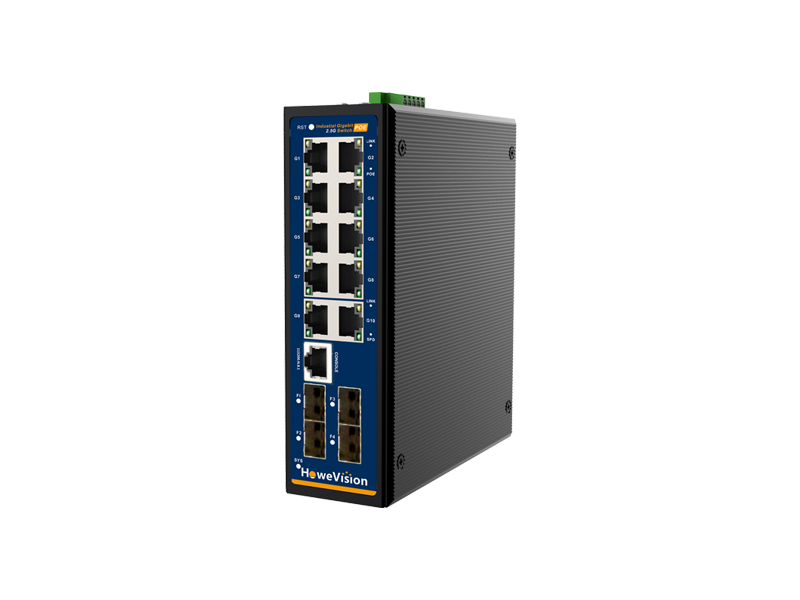 Model: IPS50824GFM
L2+ Managed industrial Gigabit Ethernet PoE switch,
Support 802.1Q VLAN, Mirroring, Port isolation, IGMP, DHCP, LLDP, DDM, POE+ management
Support spanning tree STP(802.1D) and RSTP(802.1W). MSTP(802.1S).
Support management through WEB, CLI, TELNET, SSH, SNMP(V1, V2, V3)
5 years warranty.
OEM/ODM is available
Small MOQ is welcome
Model: IPS2G1GF
Unmanaged Industrial Gigabit Ethernet Switch PoE
9-56V DC redundant power with polarity reverse protect
-40 to 75 degrees C operating temperature
IP40 aluminum case without Fan
5 years warranty.
OEM/ODM is available
Small MOQ is welcome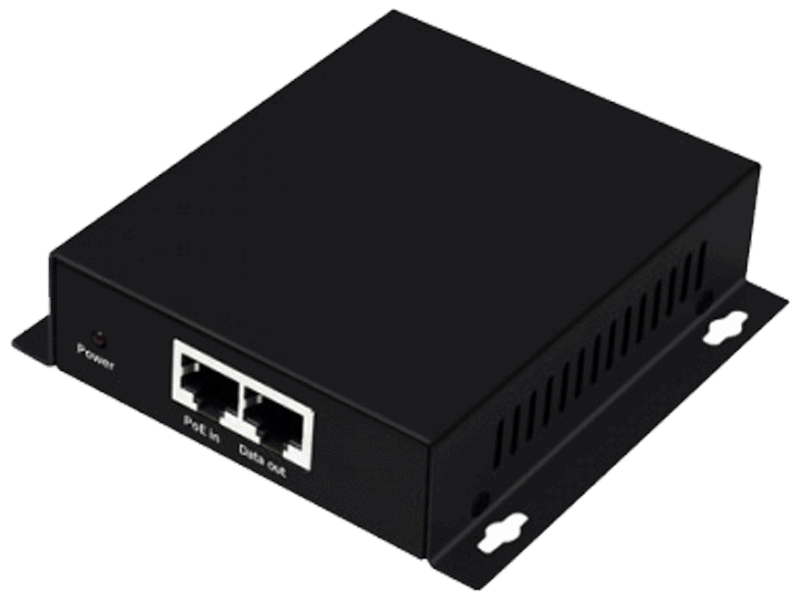 Model: PD101G-72
1*1000M PoE-in Port + 1*1000M Data-out Port
Comply with IEEE 802.3, IEEE 802.3u, IEEE802.3af/at standards
The voltage output supports a DC plug and 2 PIN industrial Phoenix terminal connection
DC power output maximum 72W
Metal housing design, with better protection
Wide working temperature -20℃~+50℃
Security Monitoring Transmission HoweVision's Successful Case
The Jazz House Hotel
W Hotel Zhujiang New Town, Guangzhou
Borui creative Chengdu
HONGTA group Yuxi Cigarette Factory
ESCALA luxury apartment tower
The Rheingold Rose Hotel, Dubai
Ningxia Hui Autonomous Region
Xi'an Administration Centre
Shanghai Peace Hotel
Ningxia Hui Autonomous Region (new)
East China University of Science and Technology
King Abdullah University of Science and Technology
University of South Florida
Culture and museum system of Shaanxi Province
The Museum of Weaving in Jiangning
Phoenix Valley (Wujin Film Palace)
Hangzhou Public Library
Hohhot Museum
Nanjing No.1 High School