Smart Power System Transmission Solution
Introduction.
The power communication network ensures the safe and stable operation of the power system. Relay protection, safety and stability control system, and dispatching automation system are the three pillars of power system safety and stability. It is essential to ensure the power grid's safe, stable, and economic operation and is a critical infrastructure in the power system. Since the power communication network has strict requirements for reliability, rapidity, and accuracy of information transmission, and the power sector has the advantage of unique resources for developing communication, most countries have established dedicated communication networks for power companies.
The Pain Points Analysis of Intelligent Power Communication.
The power system interference is severe, requiring the front-end communication equipment to have anti-interference solid ability. For most manufacturers of communication products, signal stability is poor.
Input voltage fluctuations, the requirement for communications equipment broad voltage input, with high requirements for the anti-surge capability of communications equipment.
communication delay in the power system has been a strict requirement; a long delay transmission system for the effective management of the power system brings great inconvenience;
The power system covers a wide area, maintenance inconvenience, high cost of equipment troubleshooting, and higher requirements for the stability of communication equipment.
Power Station Industrial Monitoring System Communication Solutions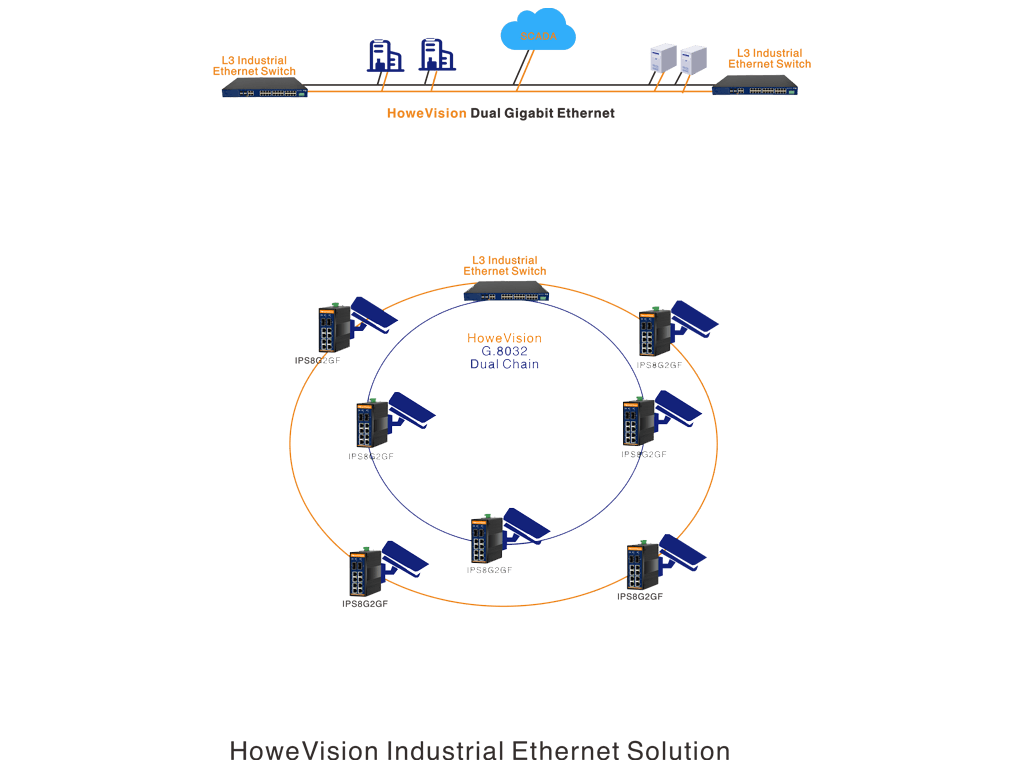 Industrial Television Monitoring System Requirements
A typical monitoring system is mainly composed of two major parts: the front-end equipment and the back-end equipment. The back-end equipment can divide into central control equipment and sub-control equipment. The front and back-end devices have various ways of composition, and the connection between them can realize by cable, fiber optic, or microwave. 
Highly Reliable Fiber Optic Ring-network Solution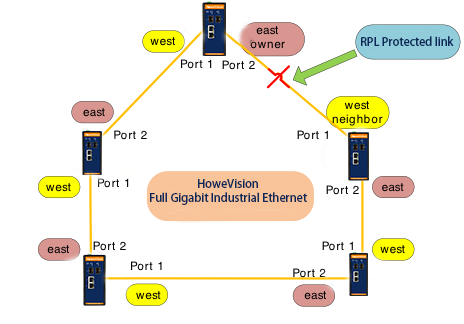 Compared with cable and microwave communication, the advantage of fiber optic communication is a fast speed, equipment interconnection all use 1000M fiber interface. High reliability and fiber optic communication protocols are not affected by intermediate signals, electromagnetic interference, and other external factors. To ensure high reliability, the industrial Ethernet switch of HoweVision Technology supports the ring network protection technology based on ITU-T G.8032. It can quickly realize the ring network self-healing within 20ms when the network fails to ensure the reliable operation of the power plant network. The transmission distance is long, up to 80km from point to point without a relay, and the network uptime is the critical factor for an uninterrupted redundant network. Unlike the industrial Ethernet devices with private ring protocol, the G.8032 supported by the industrial Ethernet switches of HoweVision Technology makes the network and devices more versatile and replicable. It is more suitable for applications in harsh environments like wind farms, wind turbines, and photovoltaic stations.
Uninterrupted redundant network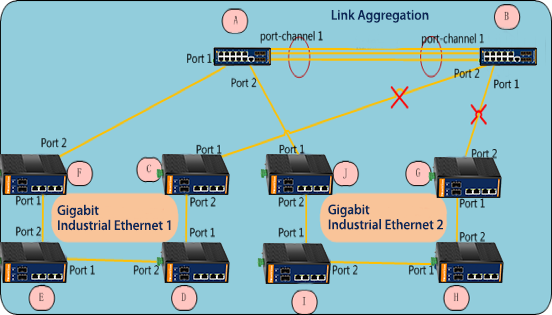 Industrial Standard Design, Rugged and Reliable
IEC61000-4

IEC60068-2

IEC61000-6

IEC61850-3

IEEE1613

CE, FCC, RoHS
A Wide Variety of Products
HoweVision Technology's industrial Ethernet products include card cabinet, rackmount, layer 2/3, multi-electric port, full Gigabit, 10 Gigabit uplink, and other types of equipment. More products are customized for the demand characteristics of the power industry to meet the different needs of power industry customers.
Power Station ECMS Solution
With the application of micro-computer integrated protection devices in power plant systems and various other intelligent devices, power plant power systems have become more informative. To operate and maintain personnel can obtain more timely, comprehensive, and accurate information about the plant power; and to monitor and manage all plant power equipment, now the power plant monitoring and management system (ECMS) is increasingly being used.
The ECMS system is divided into three network layers: station control, communication management, and interval. The station control layer includes operator stations, engineer stations, etc., and optional communication units for communication with other systems; the communication management layer is an Ethernet switch. The interval layer contains all protection, measurement, control devices, and other intelligent devices. High-voltage power supply integrated protection devices connect to the station control layer through dual 1000M Ethernet. Other devices convert to 100M Ethernet through the communication management layer.
It monitors and controls power system equipment and transmits information to other network monitoring systems and DCS systems; it completes data acquisition and processing, monitoring and alarm, control and operation, control switching, human-machine interface, and management functions.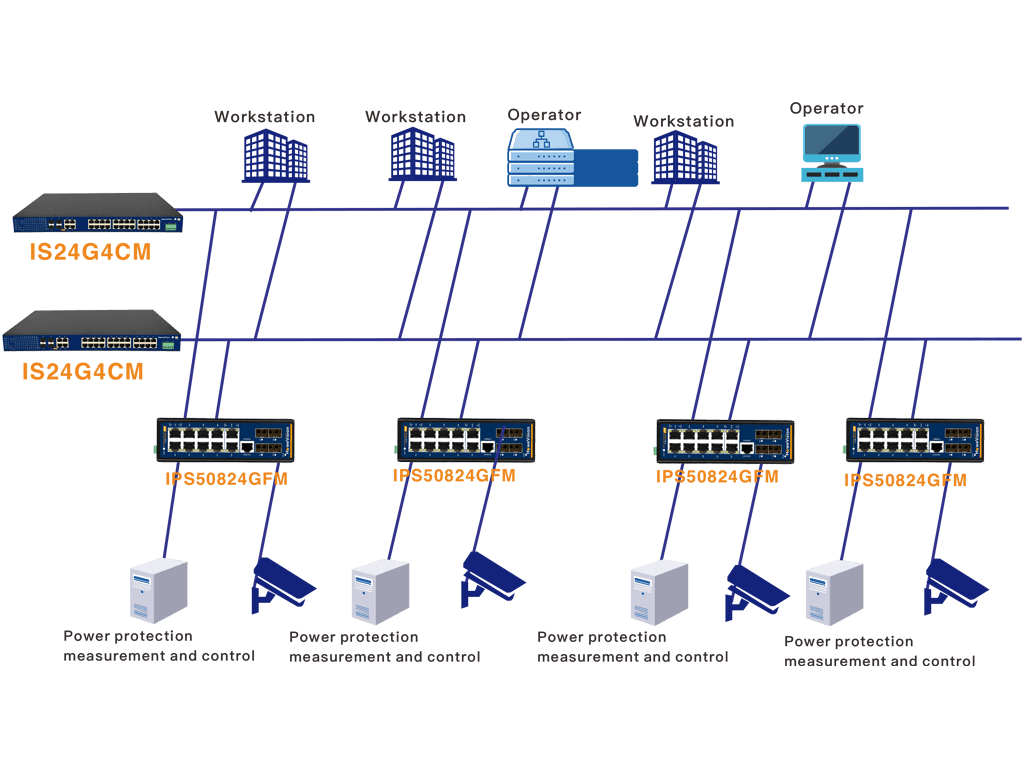 Standardized Network for Communication of Multiple Power Plant Systems
The industrial equipment network conforming to IEC61850-3 (substation), IEEE1613 (power substation), KEMA standards, and certifications can support stable operation in power plants' electromagnetic solid interference environment. The system network is an essential part of the SIS system, the bridge between the whole system substations and subsystems. The system network based on HoweVision Technology's industrial equipment can ensure the stable and efficient operation of power plant SIS and other systems. The field-level equipment can effectively access the fiber optic devices based on the serial interface.
IEEE 1588 clock synchronization



Zero Packet Loss
HoweVision Technology industrial switch adopts an industrial-grade design concept and industrial-grade chip to ensure the transmission performance of the switch and increase the stability of its operation. At the same time, it has strong adaptability to the environment, with working temperature (-40℃-85℃), storage temperature (-45℃-85℃), relative humidity (5-95% non-condensing), and industrial level 4 electromagnetic compatibility requirements by IEC61850 specification. In a harsh environment, HoweVision industrial switches can still work stably. With the above-advanced features (VLAN, QoS, GMRP, broadcast storm suppression), network transmission is more stable and reliable based on the above software and hardware features. Based on the software mentioned above and hardware components, HoweVision switches can achieve zero packet loss in network transmission, thus fully guaranteeing real-time and high reliability of network transmission.
Bandwidth Control
The industrial Ethernet switch of HoweVision supports the port bandwidth control function. It can control the flow of each port in both incoming and outgoing directions. The realized methods are 1000M, 800M, 600M, 400M, 200M, 100M, 50M, 20M, 10M, 5M, etc., and other introductory rates. According to the bandwidth occupied by each service of the urban substation automation system at its peak state, the bandwidth allocation made for each service port (the same settings made in both directions).
Real-time data: 20M
Measurement and control acquisition: 20M
Extended services: 20M
To ensure the smooth transmission of service data. The bandwidth of each service port is limited to prevent invalid data from entering the backbone part of the network. In addition, a certain amount of bandwidth redundancy is reserved for each service when doing traffic control. Prevent regular services from being discarded when their data exceeds their peak bandwidth instantly.
Storm Suppression
Broadcast storm refers to excessive broadcast packets that consume large network bandwidth, resulting in regular data packets not being transmitted correctly. Usually, a broadcast packet causes multiple responses, and each response causes various reactions. Just like a snowball, all the bandwidth of the network is consumed. This phenomenon is caused by network loops, faulty NICs, viruses, etc.
HoweVision industrial series switches can propose broadcast packets according to the number of broadcast packets in the network. Broadcast storm suppression six options:
Disable, 1/2, 1/4, 1/8, 1/16, 1/32.
When broadcast packets occupy 1/2, 1/4, 1/8, 1/16, and 1/32 bandwidth, broadcast packets exceeding the set bandwidth are dropped.
The disabled state is not suppressed, for Disable state does not suppress broadcast messages.
Industrial Grade Standard Design, Robust and Reliable
IEC61000-4
IEC60068-2
IEC61000-6
IEC61850-3
IEEE1613
CE, FCC, RoHS
Rich Product Types
HoweVision Technology's industrial Ethernet products include card cabinet, rack mount, layer 2/3, multi-electric port, full Gigabit, 10 Gigabit uplink, and many other types of equipment. More products are customized for the demand characteristics of the power industry to meet the different needs of power industry customers.
Solution Related Products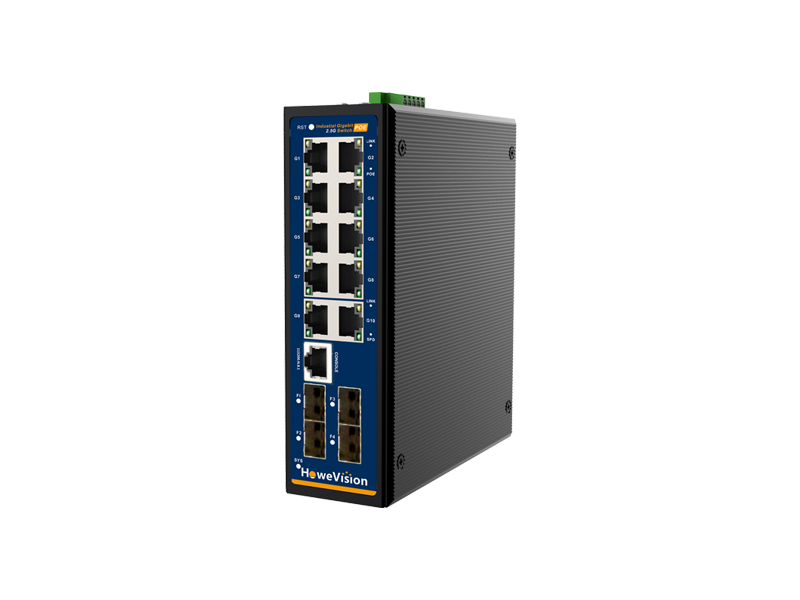 Model: IS50824GFM
L2+ Managed industrial Gigabit Ethernet switch,
Support 802.1Q VLAN, Mirroring, Port isolation, IGMP, DHCP, LLDP, DDM.
Support spanning tree STP(802.1D) and RSTP(802.1W). MSTP(802.1S).
Support management through WEB, CLI, TELNET, SSH, and SNMP(V1, V2, V3).
5 years warranty.
OEM/ODM is available
Small MOQ is welcome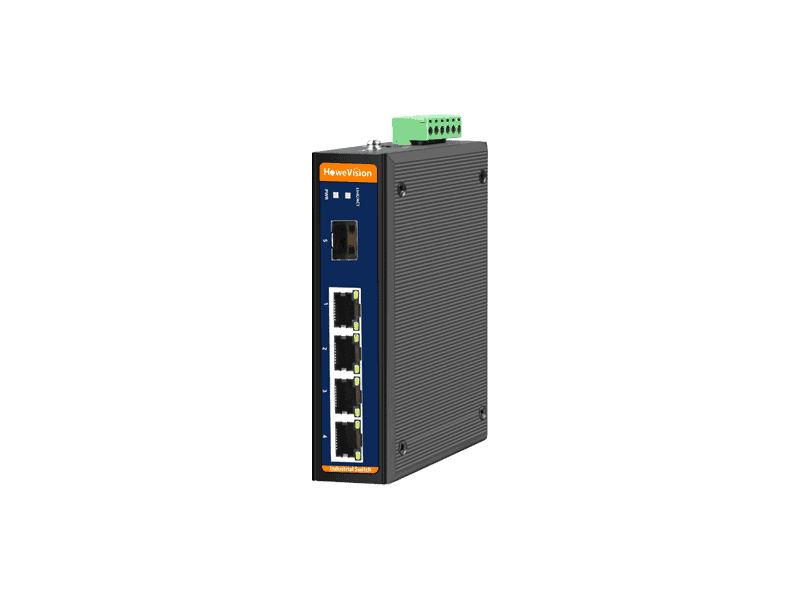 Model: IPS4G1GF
Unmanaged Industrial Gigabit Ethernet Switch PoE
9-56V DC redundant power with polarity reverse protect
-40 to 75 degrees C operating temperature
IP40 aluminum case without Fan
5 years warranty.
OEM/ODM is available
Small MOQ is welcome
Hydropower Plant Monitoring System Communication Solutions
 Double Star Networking Scheme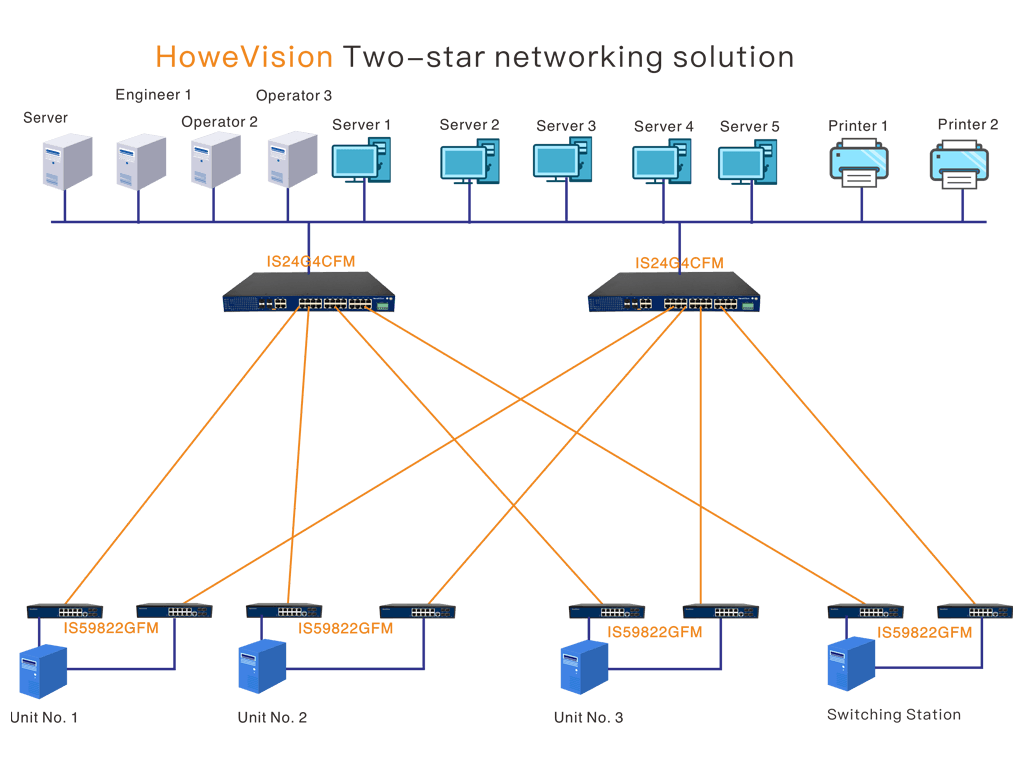 Double-loop Networking Scheme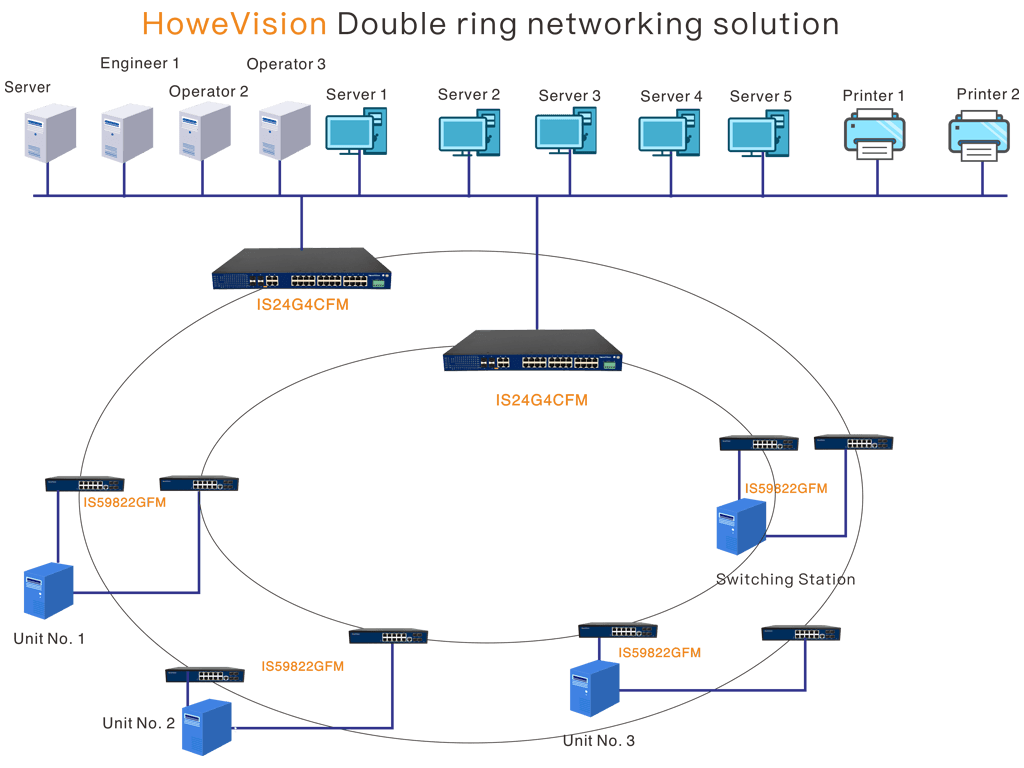 Project Presentation
Hydropower plant monitoring system using a hierarchical distribution, open network system structure. With a typical three-layer structure: the central control layer, the communication layer, and the local layer.
The main control layer, also known as the upper management or station control layer, generally uses an Ethernet communication structure. Operator station, engineer station, historical data server, intra-plant communication server, printer, satellite clock, etc., can be set up as needed to form the monitoring and management center of the electrical system. 

The local control unit (LCU) has all the protection, measurement, and control functions. 

The local control unit is composed of a controller, measurement and control unit, protection unit, and other devices such as automatic quasi-simultaneous devices. It has the functions of data acquisition and processing, safety monitoring, control and regulation, simultaneous grid connection, measurement, sequence control, data communication, self-diagnosis, etc. The local layer connects to the central control layer through the Ethernet communication layer.

The communication layer is also called the communication network layer. The communication network layer is an essential pillar of the computer monitoring system of the hydropower plant, which generally adopts double star type 1000Mbps Ethernet or double ring type 1000Mbps Ethernet structure. Two core industrial Ethernet switches install in the control room, and each workstation and server, and each LCU connect to the network switch host in a star-radiated way. The network transmission rate of the control layer of the plant is 100Mbps /1000Mbps adaptive. The communication protocol adopts TCP/IP protocol, and the whole network can automatically switch to the backup link when the link fails. 

The local control units are equipped with industrial-grade switches, and each local control unit node provides two sets of industrial Ethernet switches. The network control software realizes the coordination among the nodes of the system. The local control units configure according to the controlled objects, such as unit LCU, utility equipment LCU, plant power equipment LCU, switch station LCU, dam area LCU, and other local control units.
High-Reliability Industrial Ethernet Ring Network
HoweVision industrial switch supports Ethernet ring network protection in a ring topology with protector switching time less than 20ms and can realize single ring, intersecting ring, phase-cut ring, coupling ring, and other networking methods.
When building a ring network, the industrial Ethernet switches are physically formed into rings and logically chained to avoid generating ring storms.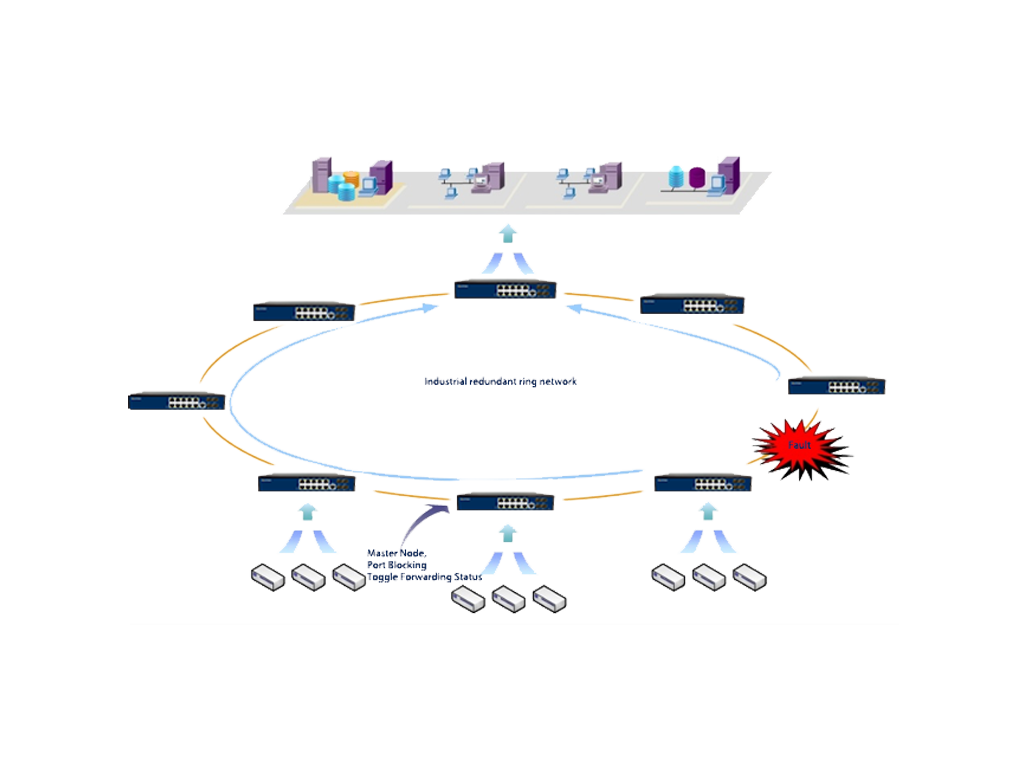 HoweVision Industrial Ethernet Switch finds out whether the ring is closed by topology collection and then conducts the election of the primary node. After the primary node is determined, it blocks a ring port to prevent the network from becoming a ring. When a link failure occurs, the primary node obtains the failure information in two ways: 
1) the primary node sends Hello messages at ms-level intervals to obtain node status information; 
2) all nodes related to the link failure send Change messages to the primary node to report node status information. After obtaining the fault information, the primary node switches the blocked port to a forwarding state to achieve fast network self-healing.
The only industrial Ethernet switch supporting G.8032 Ethernet Ring Protection Switching protocol, the SG15 working group of ITU-T defined G.8032 to define Ethernet's automatic protection switching mechanism in a ring topology. It solves the problems of multi-ring protection, arbitrary topology, multi-domain protection, and multi-protocol interoperability.
Successful Cases of Intelligent Power Transmission
Guizhou Dongfeng Power Plant Monitoring Project
Three Gorges Hub Security Monitoring System
Panama Canal
Sichuan Ertan Hydropower Station
Cambodia Hydropower Station Project
Smart Grid Research and Industry ( Nanjing ) Base of State Grid Corporation
Industrial Ethernet switches are widely used in the distribution network automation communication of Southern Power Grid.